Follow the guide for serpentine belt routing diagrams. This will open up to the index. Scroll down to find your vehicle manufacturer. Then scroll to the page the index refers to. Select the specific year and make of your vehicle. Take note of the Illustration number and then Scroll to the bottom of the page to find your Free Serpentine Belt Routing Diagram.
Example Belt Routing Diagrams: I need Belt Routing diagram for my engine
What's that squeal coming from under the hood?
The noise started a few months ago, on a rainy morning, but it went away before I even pulled out of the driveway. Problem solved, right? Nope! The Squeal noise was back the very next morning, and this time it lasted all the way to the corner of my block. I lifted the hood and focused in on the horrible racket—it was the serpentine belt. As the weeks dragged on, my morning commute got noisier and noisier every day. Then I began to hear it on the way home too. Now it's a constant reminder to replace the belt. Soon.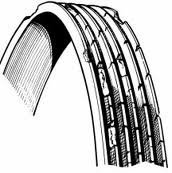 If your serpentine belt is cracked or has chunks missing, it needs replacement.
Serpentine Belt Noise
- learn this easy trick!
Find a repair manual for your car - Get instant access to your vehicles drive belt routing, complete wiring diagrams, trouble code information and other available updates and factory bulletins with online auto repair manuals.